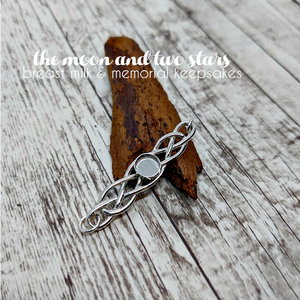 Regular price $120 without chain, $140 with. 

This stunning oval bezel pendant is an absolute statement piece. It is hand crafted in North America using ethically sourced silver from mines with respectable practices and, when possible, from recycled silver.
The setting is approximately 38mm x 8 mm with a 6mm spot for an inclusion stone. 
This listing is for ONE pendant or ONE pendant with a 18" cable chain. 
Instructions on how to mail inclusions will be detailed at checkout.

At the checkout there is a box where you can leave me a note and let me know which inclusions (breast milk, hair, fur, ashes, flowers, etc) that you'd like the add. 
***********

Please note that this listing is for the keepsake as is -- no flecks or shimmers. 

To add Flecks and Shimmers to your keepsake, please add them to your cart from the main menu. Or by following this link