Welcome
The Moon and Two Stars creates personalized DNA keepsakes from physical memories such as breast milk, a loved ones ashes, hair and fur, dried flowers, most fabrics and more. 

Each piece is hand-crafted in a small studio. You can rest assured that your inclusions are given love and respect in this intimate environment during the entire preservation and crafting process. 

Please read this important announcement regarding The Moon and Two Stars and COVID-19 and this Urgent Announcement
Professional DNA Preservation
With science and experience, our goal is to provide affordable and timeless keepsakes to honour you and your beautiful story. 

Your keepsake will be as unique as the source of your inclusion. Add our exclusive collection of Shimmers and Flecks, the customizing options are as endless as your imagination.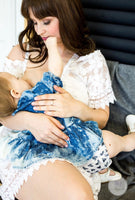 Testimonials
Jess is very personable, and you're able to tell through the details and individualized note that she takes pride in her work, and her customer's story.

Nicole C.
I had two beautiful pieces made, one with my second borns grounded placenta and another with both my girls breastmilk. 
I couldn't be happier with how simple and elegant they are. Having these little pieces of my pregnancy and postpartum will help me remember those special days when they were little.

Janice T.
I'm beyond in love with this ring. Such a pleasure to work with, she answered all of my questions and was so kind. The attention to detail is exquisite. I'm just obsessed. 

Kay P.