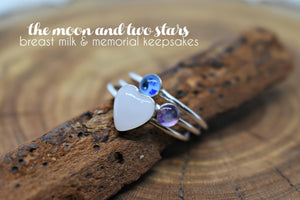 This stacking set is made for those who wear their hearts on their sleeves.

This set features three sterling silver rings (one 8mm heart and two 4mm round) It is available in full and half ring sizes and is hand crafted in North America using ethically sourced silver from mines with respectable practices and, when possible, from recycled silver.

The setting is approximately 4mm and 8mm.

This setting can accommodate: breast milk, cremation ash, encapsulated placenta, hair, fur, dirt or petals.

This listing is for THREE rings. One 8mm heart ring and two 4mm round rings.

Instructions on how to mail inclusions will be detailed at checkout.

***********

Please note that this listing is for the keepsake as is -- no flecks or shimmers.

To add Flecks and Shimmers to your keepsake, please add them to your cart from the main menu. Or by following this link