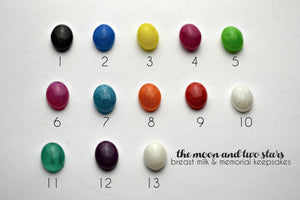 This is an add-on purchase to your existing order.
Please note that Flecks and Shimmers are a great way to add colour or texture to your inclusions. Shimmers are pigmented, while Flecks reflect colour into the inclusion.
This listing is for Shimmers only. For our Fleck options, please follow this link here. 
Use Shimmers to represent birthstones or your favourite colour.
Shimmers are shown without inclusions to show their true colour.
You can combine flecks and shimmers, or choose one or the other.
Shimmers are highly recommended in the use of cremation ashes to "soften" the look. If you're not interested in "colouring" your inclusion (milk or ashes) but want to add a slight shimmer, we do have a "colourless" shimmer called "Starlight" which is available.
Keep in mind the colour of your inclusion may alter the look or appearance of the finished product. Like any artistic process, there is no way to guarantee a certain "look", as the stone sets; it takes on a mind of its own. Please note that all screens display colours differently and final product may differ from screen to in person.
To understand more about the difference between Shimmers and Flecks, please read
this blog post here
. 
**********
Shimmer Colours
1- Black – Night sky effect. 
2- Blue – Rich mid-tint blue. 
3- Yellow – Bright toned yellow. 
4- Fuchsia – Deep Pink colour. 
5- Lime Green – Bright vibrant colour. 
6- Light Pink with Purple Undertones
7- Sky Blue – A Light bright blue. 
8- Orange – A bright and vibrant orange. 
9- Red – A Deep true-red colour. 
10- Silver – A bright silver colour. 
11- Green – Light green colour. 
12- Purple – Deep, royal purple. 
13- Starlight – Shimmer without colour. Used to add shimmer to inclusion without colour. Seen here with breastmilk.
**********
Flecks & Shimmers Recommended for Mimicking Birthstones:
January – Garnet – Mars Flecks or #9 Red Shimmer
February – Amethyst – Aurora or Galaxy Flecks, or #12 Purple Shimmer
March – Aquamarine – Neptune Flecks or #7 Sky Blue Shimmer
April – Diamond – Comet, Halley or Mercury Flecks, or #10 Silver Shimmer
May – Emerald 
–
 Meteor or Jupiter Flecks, or #11 Green Shimmer
June – Pearl – Comet Flecks or #10 Silver Shimmer
July – Ruby - Mars Flecks or #9 Red Shimmer
August – Peridot – 
Pulsar 
Flecks or #5 Lime Green Shimmer
September – Sapphire – 
Uranus or R2 Flecks or #2 Blue Shimmer
October - Rubellite Tourmaline – Nebula Flecks or #4 Fuchsia Shimmer
November – Citrine – Saturn Flecks or #3 Yellow Shimmer
December - Blue Topaz – Uranus or R2 Flecks or #2 Blue Shimmer
**********